Wakakirri success! St Paul's wins two performance awards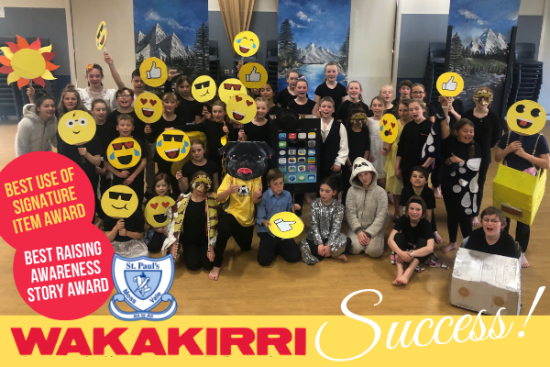 In just our first time participating in Wakakirri – Australia's largest Story Dance Festival involving hundreds of schools and over 20,000 students across the nation each year – St Paul's has won not one, but two awards for their fantastic contemporary dance performance.
The Aboriginal word 'wakakirri' means 'to dance a story' according to the Wangaaypuwan people from Cobar, NSW – and in less than seven minutes, our group of 45 students from Years 3-6 creatively told their story using a combination of dance, movement, costumes, music and acting.
The group travelled to the WIN Entertainment Centre to compete in the Wakakirri Wollongong Regional Primary School Challenge earlier this month, where they presented their performance entitled 'Phone!' – highlighting the prevalence and use of mobile phones in our society today.
Our school won the 'Best Raising Awareness Story Award' for their dance story; as well as the 'Best Use of Signature Item Award' – this year's signature item being the slow-moving American mammal, the sloth.
Sports Coordinator, Chris Boyd, said Wakakirri has been an outstanding experience for the students to be a part of.
"Our St Paul's Moss Vale students, under the direction of our two brilliant choreographers, Mrs Williamson and Mrs Iliani, have been working on their piece for months, culminating in this award-winning performance in Wollongong" — Chris Boyd, Sports Coordinator
"The biggest challenge was this was the first time our school had participated in Wakakirri – so it was a whole new experience for the students, but a wonderful experience," he said.
What the students said:

"Wakakirri was the best. All our hard work paid off!" – William, Year 5

"People had a great time. I'd like to do it again; it was fun!" – Tamara, Year 3

"Wakakirri was an amazing experience for me and I'm sure for everyone who participated" – Steffi, Year 6

"It was so much fun! I liked watching all the other schools too. Everyone had nice costumes" – Edward, Year 4
The Wakakirri judging panel praised St Paul's for their energetic performance. On receiving the 'Best Raising Awareness Story Award', the judges said the school canvassed a "delightfully fun but relevant issue that affects everyone in society now".
This performance [from St Paul's Moss Vale] approaches [phone use] in a lovely tongue-in-cheek style which works so well and is very entertaining. Great soundtrack to help drive the thought-line forward and very committed performances from the whole ensemble. A fun piece with a very important message (pardon the pun)! — Wakakirri judging panel
Regarding the 'Best Use of the Signature Item Award', Mr Boyd said while the use of this year's signature item, the sloth, was not compulsory, the group "decided to go with it".
"We had two students dressed in sloth onesies and they danced v e r y s l o w l y! They had a lot of fun."
IN THE MEDIA
Southern Highland News – 20 August 2019 – Wakakirri competition a success for St Paul's Moss Vale

---
Wakakirri is Australia's largest performing arts event for schools. It's a national Story Dance Festival that uses storytelling, the oldest form of learning, to "open hearts and minds and inspire change". For more information, visit www.wakakirri.com
---